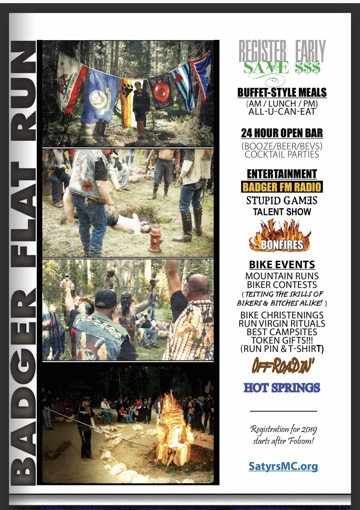 Who is going to the Badger Flat Gay Camping Trip? Send me an email, and I may get you a discount! I will be there !
The 58th Annual Badger Flat Run
Camping in the High Sierras
LABOR DAY WEEKEND
Aug 30 – Sept 2
Grab your camp gear.
Wear your fetish gear.
Everything else is included.*
*Hot Meals, Cold Drinks, Warm Showers, Big-Ass Bonfires, `n a Buttload More.
Registration: $275
More Info:
(http://online.fliphtml5.com/sjjdo/zcqi/ )
Join Booted Ray, Jesse Santana, Draven Torres, Matty Lalime (Mr. American Rubber 2016) along with the guys from Instigator, Nasty Kink Pigs, Off-Ramp Leather, & over 150 other hardcore homos as we hit the High Sierras
Cum Camp with a Bunch of Queer Bikers