I have been talking to wellie a lot lately, he is a hot gay rubber slut: tall, thin and real rubber freak!
At work, he always wear his hunter millbank sneakers, which is similar to the look of converse, but made in all rubber;
When playing, he always wear full rubber, including rubber catsuit, rubber boots, rubber gloves, rubber hood;
Sometimes, he wears rubber partially or fully on the street. He doesn't feel embarrassed dressing in rubber on the street, as he said" I am proud to be seen in my boots, I love them, I love showing I am a rubber boot slut!!!!"
Some obstacles for him to be a 24/7 total rubber slut is:
I am so fucking busy all the time I rarely get a chance to go out AND have rubber on at the same time
I never am home to get in gear and then need to go somewhere
I leave the house 6:15 am and get home after shops close
Weekends are fully booked 2 months in advance
Wellie has a good job, a hobby and a big family, which takes lots of his time, what he wants is to get out and be permanently rubbered and made as a slut for periods.
He wants to be a total rubber slut! Take him deeper into perversion step by step, gradually making it normal:
lock him up in full rubber, so he cannot escape anymore;
Extreme ass stretching;
Becoming a heavy rubber whore;
Used as a toilet and fist slave.
A typical day should like this:  put a lock on his rubber and kick him out to do the things required to do or get, shopping, proof of being somewhere, no way back, only in rubber.
But he couldn't find a Top nearby to train him and monitor his progress. So I will be his long-distance Master to train him. What he wants to be in front of Me is: from full rubber streetwear, to heavy rubber slave kit for whoring out to heavy immobilization rubber to become a fist cunt and rubber toilet.
I am planning to visit him in the future, but only under one condition: showing me he is a true rubber slut! so I make a plan to him:
1. For now, wear rubber on the street every weekend, and send pics to me- I will post them on the blog every week too;
2. Wear more rubber at work, besides the rubber sneakers (can be covered by normal clothes);
3. No matter at work or at home or on the street, in rubber!
4. 24/7/365 in Full Rubber!
Here are some of his old pics that were in rubber on the street, I will take these as a start:
Wellie Shopping in Amsterdam, 2011-11-19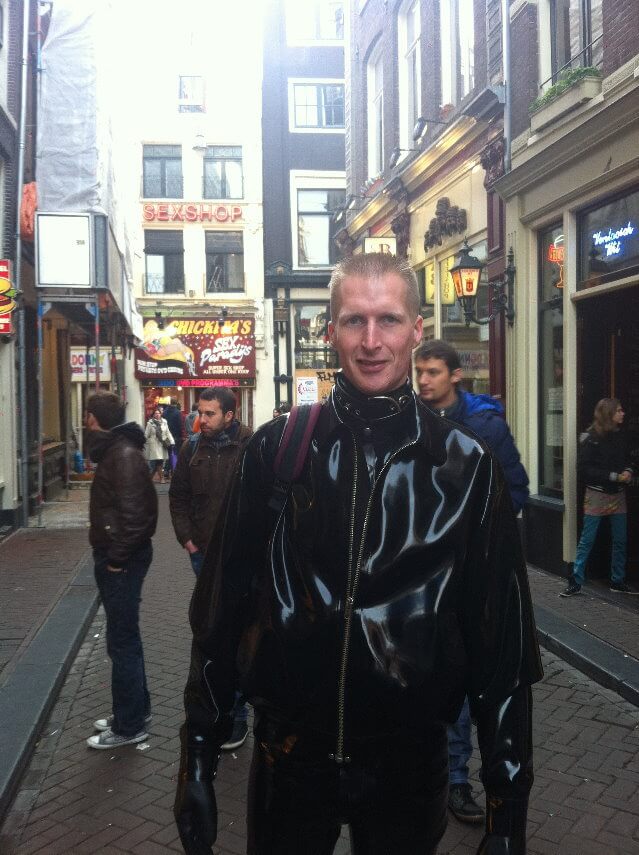 Wellie at Dam Square in Amsterdam,  2011-11-19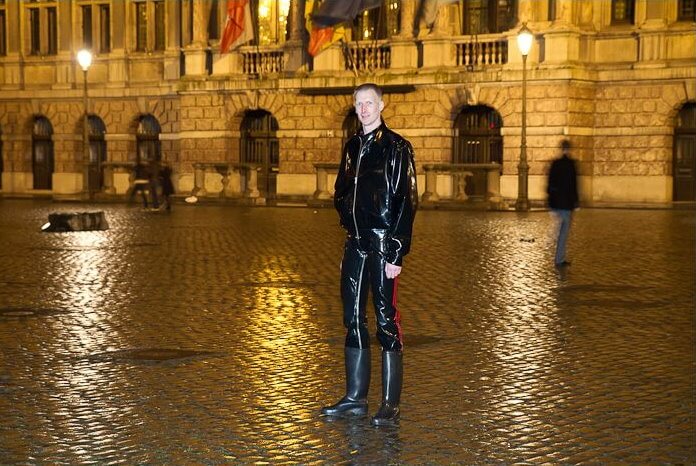 Wellie at Market square in Antwerp, 2012-02-12