If only can psychically control a slave at home is less fun. Think of he is working in the office…and still, you are in control of his body.
1. Control His Ass
Our Anal Harness is a technical upgrade on our popular anal harness with an inflatable butt plug.
Wear your premium DeLuxe Anal Harness under your uniform, office wear or pantsuit — it's your little secret!
This DeLuxe Anal Hardness is made from two layers of soft garment leather for ultimate comfort. All straps are individually adjustable. Comes with two adapters (sliding leather base plates), making it possible to use our Anal Harness with the majority of butt plugs available on the market today.
How it works: select the sliding leather base plate for your butt plug. Connect the butt plug with the adapter and attach the Anal Harness. Lube up the butt plug, pull on the harness, place cock and balls through the cock ring, strap in tight and lock. The ultimate comfort and the sensation of being locked in so tightly (while your cock and balls are stimulated) is simply indescribably hot. You'll be speechless. Now you can give your fantasies free reign: play with yourself, pull on a pair of pants and go to work — let your imagination run wild!
Belt width approx. 30 mm, cock ring diameter 55 mm (interchangeable with other cock rings), 2 adapters included (for use with almost all butt plug models).
Comes in 2 sizes: S/M – for jeans sizes 30-35" (clothing sizes 44-50) and L/XL – for jeans sizes 36-46" (clothing size up to > 58).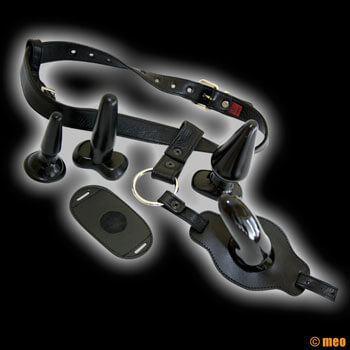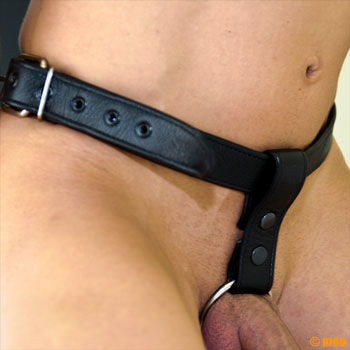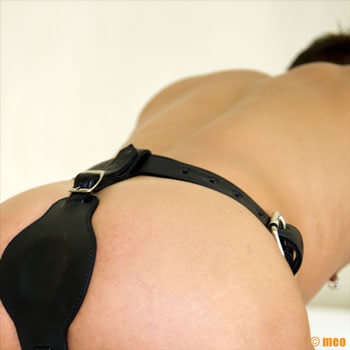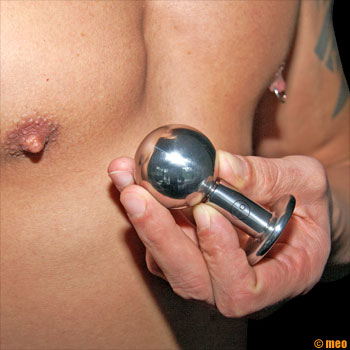 This luxurious anal ball made from stainless steel (very hygienic) can be worn discreetly all day. Lube up and insert anally until you hear the "PLOP!"
When worn under clothing, nobody will see your hot little secret! thanks to the smooth, polished finish very easy to insert.
Anal ball with 40 mm (1 ½ inch) Ø base (prevents excessively deep insertion).
Length 3.5 cm ( 1 1/3 inch) + ball.
Available in 30 mm (1 1/5 inch), 40 mm (1 ½ inch) or 60 mm (2 1/3 inch) diameter.
Steel Toys: Don't forget to use AQUAMEO lubricant with metal sex toys. AQUAMEO is a nourishing, long-lasting, ultra-rich gel lubricant that's ideal for sex toys made from steel or aluminium. With AQUAMEO, almost any sex toy will slip inside you virtually on its own. Item No. 4403.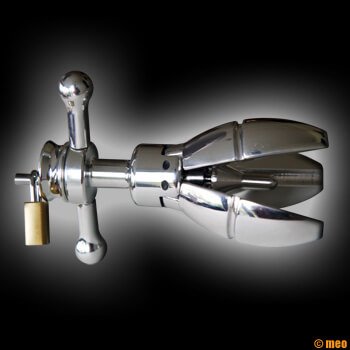 We're now offering a "junior version" or our famous anal master that's more affordable but every bit as effective.
Enjoy the indescribable anal feeling of being completely filled up, alone or with a partner! Insert the butt plug using plenty of lube, then wait until it slowly but surely expands to full size! Pay attention here if you are the active partner; it's an amazing sensation to feel him (or you) being spread as wide as you can possibly imagine.
The feeling is simply indescribable: the butt plug starts out small then expands to almost three times its size…. mmmm….. ahhhh. Stays securely in place, will not fall out.
Benefits at a glance:
– For pros and beginners alike
– Hygienic material, easy to clean
– Expandable
– Stays securely in place
– Will not slip out
– Lockable
Here's the kicker: once the butt plug is spread to the max, you can lock it so it can't be removed without a key. A key is needed to reduce the butt plug to its previous slimmer size so it can be pulled out. In an exciting twist, if you lose the key you'll have no choice but to call a locksmith.
Our tips:
– Connect the (locked) butt plug to a rope attached to the floor or wall.
– Attach handcuffs or shackles
– Add extra weights
– Anal chastity – enjoy sexual dominance
Our lockable butt plug starts out small (4.50 cm = 1 3/4″ ) for insertion, then spreads to a maximum 7 cm. The total length is about 15 cm = 6″. Material: nickel-free stainless steel.
2. Control His Finger Ring
…let everyone else know he is taken!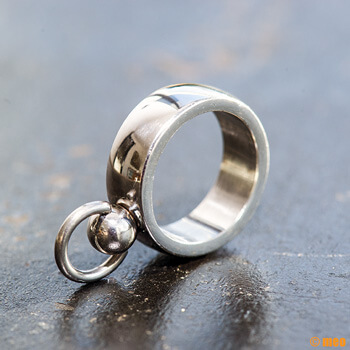 The Ring of O is a special finger ring that has been an identifying symbol for BDSM since the 1990s. It is named after the ring worn by the protagonist O in the classic BDSM novel "Story of O" by Pauline Réage.
It is common for tops wear the ring on their left hand, while subs wear it on their right hand. The advantage of this is that right-handed tops don't have a ring on their dominant hand.
Our rings consist of a steel band with a ball which is 8 mm in diameter, with a 2 mm ring with an inner diameter of 8 mm.
Available in 3 sizes:
S = inner diameter 15 mm
M = inner diameter 18 mm
L = inner diameter 21 mm
3. Control His Neck
..give him a collar!
Premium "dog tag" chain made of stainless steel with a bold statement pendant in the shape of a small padlock. Surface blackened using the Ionic Black Plating process.
Pendant comes with 46 cm (19″) stainless steel ball chain.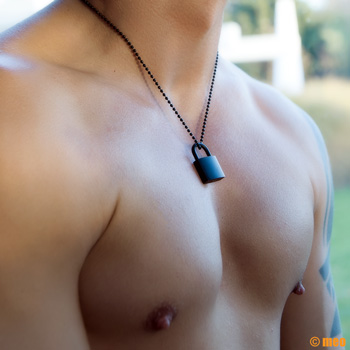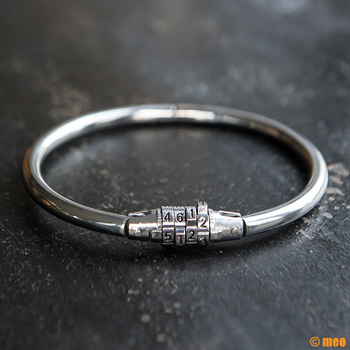 100% Handmade by our blacksmith this heavy steel plated collar is very unique and unusual as it opens with a combination lock built into the collar.
This is a substantial item with even the smaller version weighing in at over 3/4 lb and 1/2″ thick.
A really classy looking collar, this is perfect to wear for an elegant night out on the town or in the dungeon. It's unusual yet simple design makes it passable as jewelry in the vanilla world as well.
Available in several sizes. Collar width 1.2 cm. Size S = 130 mm inner diameter
Size M = 150 mm inner diameter
Size L = 170 mm inner diameter
4. Control His Cock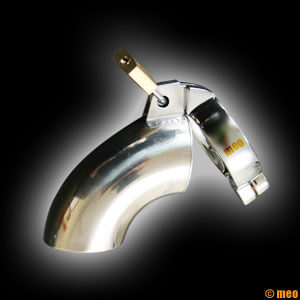 Masturbation is prohibited, cheating is prohibited, touching is prohibited, sexual self-determination is prohibited. NoPacha Chastity Belts for men help any conscientious master, key holder, or domina.
Our NoPacha models for strict male chastity enforcement are made of solid steel with an anatomically correct design.
The proven all-metal designs of MEO leave no desires unfulfilled, because each individual NoPacha® model has been perfectly adapted to the male genitalia. The hinged and completely lockable chastity devices have been manufactured of a tough metal alloy and the surfaces have been painstakingly polished to product a beautiful look (the surface is also resistant to many liquids).
After the penis and testicles have been securely stowed in our chastity device, the included padlock can be attached.
NoPacha is a registered trademark of MEO-TEAM.
Dimensions: Inner diameter of the ring is 45 mm, length of the tube is 85 mm and the inner diameter of the tube is approx. 37 mm.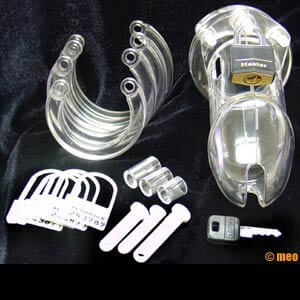 The much anticipated CB-6000™ is now available and on the market! We feel that you will find the new ring design is a wonderful asset to our marvelous line of chastity products.
The New Innovative ring design consists of three interlocking pieces that fit together like puzzle pieces. The two guide pins hold the top pieces together. The locking pin goes through the middle recessed hole connecting the cage portion to the ring. The new flat design is extremely comfortable. The rings come in 5 sizes: 38 mm = 1 ½", 41 mm = 1 5/8", 45 mm = 1 ¾", 48 mm = 1 7/8" and 51 mm = 2.0" inside diameter. The cage length is 83 mm = 3 ¼" with an inner diameter of 35 mm = 1 3/8".
Polycarbonate material is used due to its light weight and durability. The cage portion has the vented slots for hygiene and also allows for natural air drying. The bottom opening allows for use at the urinals. You may want to have a piece of tissue handy to wipe any drips.
Make sure to wear a numbered plastic lock if going through any metal detectors. It has been reported that some men have worn the brass padlock and have not had any 'alarming' experiences, however, the plastic lock is still recommended.
We highly recommend using a silicone based lubricant after showering. This allows the penis to naturally move up and down in the cage portion. After a break in time period you should be able to wear it for 24/7 for an indefinite period of time…1 month, 3 months…wearer and Keyholder ultimately determine the length of time.
Each Order includes the following:
1.One Cage Portion
2.Five different sized rings
3.Four locking pins
4.Four spacers
5.One brass padlock with ONE key
6.Five individually numbered plastic locks
7.An embossed CB-6000™ zipper pouch
CB-6000 parts are not interchangeable with any other chastity device.
MEO-TEAM's lockable prince's wand goes beyond chastity, beyond cock-stuffing and beyond CBT. It means total submission.
This prince's wand is closed with an escape-proof padlock, making removal utterly impossible.
How to use: First, place the cock ring without the prince's wand, then introduce the prince's wand with the help of our VERYDEEP lube. The bracket attached to the cock ring is placed below the penis. Now, the bracket can be connected to the prince's wand. Use the supplied padlock to securely lock the bracket and prince's wand.
Material: The prince's wand is made of stainless steel.
Size: The prince's wand has a diameter of 8 mm and a length of 80 mm. The tip of the prince's wand is tapered for easy insertion. The inner diameter of the cock ring is 45 mm, and it measures about 10 mm in height.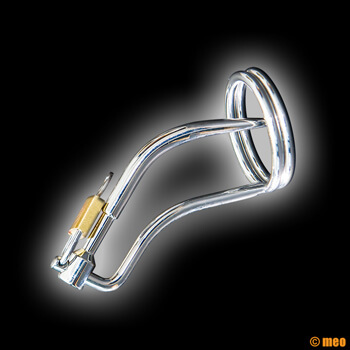 6. Tattoo His Body
For clear marking of ownership situations, We now offer an expressive stamp with the unambiguous label "SLAVE". For applying to the neck, hand, rear, arm, forehead, or ankle.
You can achieve more permanent marking than with normal stamp ink by using waterproof ink, which is available in a stationary store.
Solid, high-quality, German-made stamp, size approximately 20 x 40 mm.